50L Rotary Evaporator w/ Motorized Lift 220V
50L Rotary Evaporator w/ Motorized Lift 220V
Product Code BRE-500
AvailabilityIn stock
SKU:BRE-500

Working principle and scope of application:
Laboratory equipment Rotary evaporator is mainly used for continuous distillation of a large number of volatile solvents under reduced pressure conditions. In particular, the reaction product can be isolated and purified by concentrating the extract and distilling the receiving liquid upon chromatographic separation. The basic principle of rotary evaporator is vacuum distillation, that is, under reduced pressure, the distillation flask is continuously rotated hen the solvent is distilled.
Features:
Ⅰ. Solvent Resistant, Reliable Performance
Made with all PTFE valves for solvent-resistant operations. Comes with vertical glassware and digital temperature/rotation control. Its optimized bath volume allows for rapid heat-up times. The condenser unit has specially designed glass tubes that utilize surface area extremely efficiently.
Simple, straight-forward operation using our digital PID controller. Easily control the temperature, RPM, and water bath with expert precision.
 Ⅱ. Digital Water Bath
Operates from ambient temperature to 99°C (210°F) with PID temperature control stepping at 0.1°C increments. Heating coils are located directly inside the pan for the most efficient heating possible. A built-in overheat protector will shut down power if a problem is detected.
 Ⅲ. Standard Glassware Set
All glassware is high borosilicate glass 3.3! Includes a 2L pear-shaped evaporating flask, 1L round-bottomed receiving flask, and vertical condenser.
Specification:
| | |
| --- | --- |
| Model |  BRE-500 |
| Rotation speed | 20~110 rpm |
| Bath temp. control range | RT+5~99 ℃ |
| Speed setting | Knob setting +LCD controller |
| Lifting method | Manual electric |
| Water bath heating method for water bath | Built-in heating |
| Main motor | DC brushless |
| Cooling area(㎡) | 1.15+0.607 |
| Vacuum seal | PTFE+Teflon coating |
| Material of  water bath | Stainless steel corrosion resistant coating |
| Heating Power | 5300W |
| Ambient Temperature | 5~35℃ |
| Bath Dimensions(inner) φ×H (mm) | ∅540*340 |
| Power Consumption | 220V 50/60HZ |
Note: This product is available with a recirculating chiller and a corrosion-resistant diaphragm pump!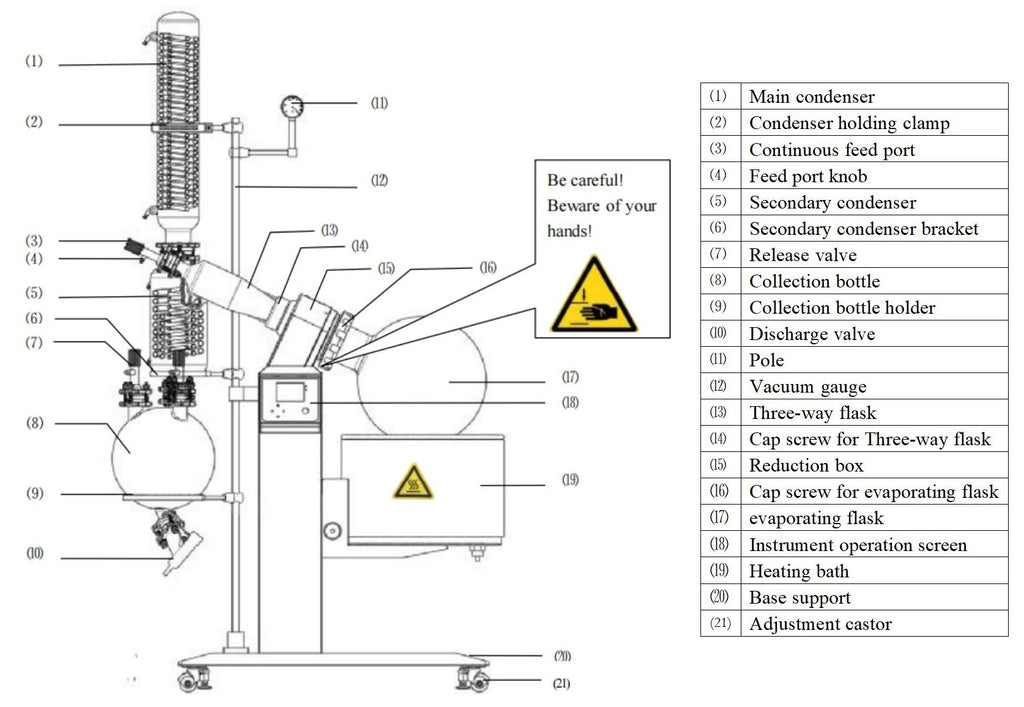 Operating panel: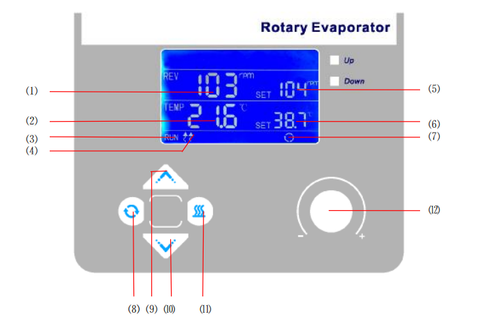 ⑴ REV: Measured speed window;
⑵ TEMP: Measured temperature window;
⑶ RUN: Heating or rotating indicator, it will display when in heating or rotating status;
⑷ Heating indicator: It will display when there is a heating output;
⑸ REV SET: Display setting speed, or display parameter value;
⑹ TEMP SET: Display setting temperature, or display parameter value;
⑺ Rotating indicator: Lights when rotating;
⑻ "

"Key:turn on or turn off rotation function;
⑼ "

"Key:adjust the height of the host, press and hold this key can raise the water bath automatically;
⑽ "

"Key:adjust the host height, press and hold this key can lower the height of water bath automatically;
⑾ "

"Key:turn on or turn off heating function;
⑿ Knob key:Rotate left and right to set the time, temperature, and speed values.
Package includes:
| | | | | | |
| --- | --- | --- | --- | --- | --- |
|  Serial no. | Category | Name | Unit | Quantity | Remarks |
| 1 | Components | Host | Set | 1 |   |
| 2 | Components | Pole | PC | 1 |   |
| 3 | Components | Glassware | Set | 1 | Evaporating flask, Receiving flask,  Main and secondary vertical condense, Rotating shaft ,  replenishement valves, fixing flange, seal ring |
| 4 | Components | Clamp holder | Set | 1 |   |
| 5 | Components | Bracket | Set | 1 |   |
| 6 | Spare parts | Nozzle SET | PC | 5 |   |
| 7 | Spare parts | Fuse | PC | 1 |   |
| 8 | Document | Use manual | Copy | 1 |   |
| 12 | Document | Packing list | Copy | 1 |   |
!!!Precautions!!!:
YOUR SAFETY IS IMPORTANT TO US! PLEASE USE CAUTION WHEN OPERATING. USERS OF GLASS REACTION EQUIPMENT MUST TAKE ALL NECESSARY PRECAUTIONS TO AVOID CONTACT WITH ROTATING PARTS, PARTICULARLY ENTANGLEMENT OF LOOSE CLOTHING, HAIR, NECKLACES, OR OTHER JEWELRY. UNDER THESE CIRCUMSTANCES, THE WINDING ACTION OF THE ROTATING PARTS CAN DRAW THE USERS INTO THE APPARATUS, RESULTING IN BREAKAGE OF GLASSWARE, BURNS, AND/OR CHEMICAL EXPOSURE. EXTRA CAUTION MUST TAKEN WHEN OPERATION WITH AIR-REACTIVE MATERIALS, ESPECIALLY UNDER VACUUM. A LEAK CAN DRAW AIR INTO THE APPARATUS AND CAUSE A VIOLENT REATION TO OCCUR.
Local Delivery
We offer delivery services for large orders to customers from Central California all the way to San Diego. Please call our sales team for more information on weekly, bi-weekly, or monthly deliveries and pricing. 626.332.7744
Shipping Time
Our main warehouse is located near Los Angeles, you can use the map below to estimate delivery time. Most orders ship one business day after the order is placed, then the transit days will follow. Below the map you will find exceptions to these rules for certain products.
Some items we sell may be warehoused in Amazon's warehouses across the US. If the item you order happens to be in on of their warehouses it will generally arrive in 3 days. If you need to know about a specific item please feel free to contact us and we'll let you know.
Larger and heavier items have to be shipped via LTL Freight. LTL shipments tend to take longer to arrive, but they have the benefit of being much safer for heavy and delicate items. If your order has to be shipped by LTL Freight we will contact you to find out if the delivery address is a residential or commercial address, and whether a loading dock or forklift is available. The freight company will call you to arrange a delivery appointment, usually a day before.
Shipping Costs
The cost of shipping varies based on where you live, how much the order weighs, and the value of the order. We've outline our shipping guidelines below:
To Contiguous US:
Item Weight

Shipping Costs

0-50 lbs

Orders over $100 ship free;
Orders $99.99 and under are a $10 flat fee.

Over 50 lbs

The shipping cost will be automatically calculated by the system based on the weight of your items and the delivery address provided.
To Alaska, Hawaii, and other US Territories:
 Cost will be calculated by weight at time of checkout.
To Other Countries:
We currently can offer shipping service internationally.
Please contact us for international shipping cost: info@hfsusa.com