Ultrasonic Cleaner - Stainless Steel 99L Commercial Grade Digital
Ultrasonic Cleaner - Stainless Steel 99L Commercial Grade Digital
Product Code PS-300A
AvailabilityOut of stock
Ⅰ. Introduction
Digital control series ultrasonic cleaning machines have been widely used in hospitals, medicine, schools, scientific research, petroleum, chemical industry, light industry, metallurgy, machinery, transportation, national defense and other industries.
For instruments, meters, electronic devices, circuit boards, semiconductor silicon chips, magnetic materials, electroplating parts, hardware, optical lenses and spare parts, audio magnetic head, polyester filter element, spinneret, latex mold, medical equipment, glassware, jewelry The deep cleaning of clock parts, precision hardware, bearings, oil nozzles, oil pumps and parts and components with complex geometry in mechanical manufacturing, especially the dirt cleaning of deep holes, blind holes and concave and convex surfaces, is the most ideal high-efficiency and high-precision cleaning equipment at present.
When cleaning, choose to add the corresponding cleaning solution to achieve better cleaning effect.
Ⅱ. Ultrasonic Principle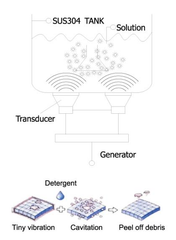 Ultrasonic cleaning is based on the cavitation effect caused by high frequency ultrasonic wave vibration signal in the fluid. Microscopic bubbles are formed, and then implode violently causing the cavitation which create an intense scrubbing action on the surface of the item being cleaned. The bubbles are small enough to penetrate microscopic crevices, cleaning them thoroughly and consistently.
Ultrasonic cleaning is extremely effective at removing dirt and grime which would normally require tedious manual cleaning by hand. It has been used to clean a wide variety of instruments and mechanical parts such as carburetors, returning them to almost "like new" condition without damage to delicate parts.
Ⅲ. Cleaner Components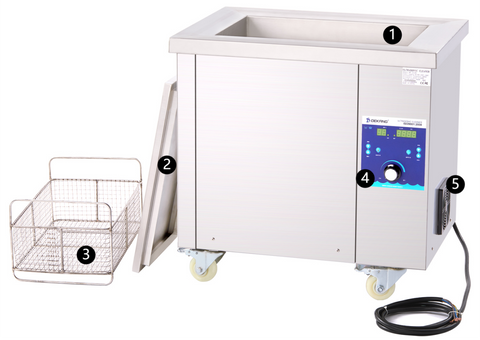 ① SUS 304 stainless steel tank ② Sound proof lid ③ Mesh basket ④ Operation panel ⑤ Fan ⑥ Drain valve
Ⅳ. Technical Parameter
Inner tank size: 550*450*400mm
Overall dimemtion: 820*630*850 mm
Capility: 99L
Working HZ: 28/44 Khz
Ultro-sonic: 1500 Watt
Heater: 3000 Watt
Tank material: 2.5mm SS104
Case material: 1.0mm SS304
Release valve: 1"
Power: 220V
Temp.: 0-80℃
Time: 1-99 mins
Ⅴ. Features
SUS 304 stainless steel tank
Industrial grade integrated circuit
0~80℃ temperature range
1~99 minutes working time
Power adjustable
Dewaxing and degreasing function
28KHz for gross rinse or 40KHz for intensive rinse
Auto Stand-by, Sleep, and wake up by one key-press Mode
Simple Digital Controller of high-precision and a long service-life
Digital controller of high-precision and a long service-life
Ⅵ. Operating Manual
Before operating
Carefully unpack the cleaner, remove all packing materials and check whetherany parts have become loose or damaged during transit.
Contents: a: Main machine    b: Sound proof lid           c: Power cable
           d: Outlet filter       e: Mesh basket (Optional)   f: Manual
Place the cleaner on a flat, clean surface and ensure thatthe cooling fan will get adequate ventilation, and that all controls are set to off, and the drain tap is closed.
Ensure that thepower cables are securely and correctly connected with the single phase switch (220V) or three-phases switch(380V), and that no part of these cable is likely to contact with moisture or wate.
Carefully fill at least 1/2 of the tank with a solvent solution. Based on cleaningrequirements, we recommend to use a small amount of cleaning solution because this will help increase the cleaning performance. Now the cleaner is ready for use.
Operation instructions
Fill the stainless steel tank with cleaning solution; turn the single phase switch or three phases switch on; After power-on, the LED display of the temperature displays the actual environmental temperature; while the LED display of time displays 3 minutes (default ultrasonic time).
Time setting: Press the "TIME-/TIME+" shortly at a time means time increase/reduce 1 min at a time, press and hold means time will increase/reduce by 10 mins continuous The cleaning stops when the timer counts down to 00:00. If the unit needs to be stopped before the timer runs up, press "Ultrasonic"button.
Temperature setting: Press "temperature-/temperature+" shortly at a time means time increase/reduce 1℃ at a time, press and hold there means time will increase/decrease by 10℃. Note: Usually, the best cleaning temperature is within 40℃ to 60℃. The temperature displayed is the real temperature. The default value of the temperature is 0℃. When you set temperature, the heating function cannot be started unless the set temperature is higher than the environmental temperature and the "Heating" button is pressed after the temperature setting. When the real temperature is higher than the set temperature, the indicator of heating will turn off. However, the heating function would not be turned off automatically if the ultrasonic cleaning still works, it will start again when the water temperature is lower than the set temperature. In this case, you can only press "Heating" to turn off heating function. However, if the ultrasonic cleaning time runs out, the heating function will stop automatically.
After time and temperature setting, press "Ultrasonic" or "Heating" button to start both functions. Press "Ultrasonic" or "Heating" button again, the Ultrasonic or heating function will stop.
Power Controller: the power can be adjusted among 0% and 100%. Users can adjust the power value randomly based on the characters of the stuffs to be cleaned.
Empty the tank and clean both the outside and inside of the cleaner with a clean and dry cloth for next use.
Local Delivery
We offer delivery services for large orders to customers from Central California all the way to San Diego. Please call our sales team for more information on weekly, bi-weekly, or monthly deliveries and pricing. 626.332.7744
Shipping Time
Our main warehouse is located near Los Angeles, you can use the map below to estimate delivery time. Most orders ship one business day after the order is placed, then the transit days will follow. Below the map you will find exceptions to these rules for certain products.
Some items we sell may be warehoused in Amazon's warehouses across the US. If the item you order happens to be in on of their warehouses it will generally arrive in 3 days. If you need to know about a specific item please feel free to contact us and we'll let you know.
Larger and heavier items have to be shipped via LTL Freight. LTL shipments tend to take longer to arrive, but they have the benefit of being much safer for heavy and delicate items. If your order has to be shipped by LTL Freight we will contact you to find out if the delivery address is a residential or commercial address, and whether a loading dock or forklift is available. The freight company will call you to arrange a delivery appointment, usually a day before.
Shipping Costs
The cost of shipping varies based on where you live, how much the order weighs, and the value of the order. We've outline our shipping guidelines below:
To Contiguous US:
Item Weight

Shipping Costs

0-50 lbs

Orders over $100 ship free;
Orders $99.99 and under are a $10 flat fee.

Over 50 lbs

The shipping cost will be automatically calculated by the system based on the weight of your items and the delivery address provided.
To Alaska, Hawaii, and other US Territories:
 Cost will be calculated by weight at time of checkout.
To Other Countries:
We currently can offer shipping service internationally.
Please contact us for international shipping cost: info@hfsusa.com